When evaluating alignment to NGSS, ask how well the curriculum releases responsibility to students over the course of the year.
Let's begin by asking how much time should you be spending on learning. This question is easily answered, even if the implementation is not quite so simple.
For 1st and 2nd grade, you should be spending about 2.5 weeks per unit, and about 1.75 hours per week at minimum
For 3rd through 5th grade, that minimum number is 2 weeks per unit and 2.5 hours per week
For 6th through 8th grade, that minimum goes up to 3.5 weeks per unit and 3.75 hours per week.
The idea is "pacing with experience," which means that there should be a release of responsibility in students' learning of the materials at a pace that they can handle based on age and previous exposure to STEM concepts and practices. Additionally, standards should be grouped together for introduction, mastery and reinforcement. That makes the sequence intentionally nurturing from September through June and from Kindergarten through 12th grade.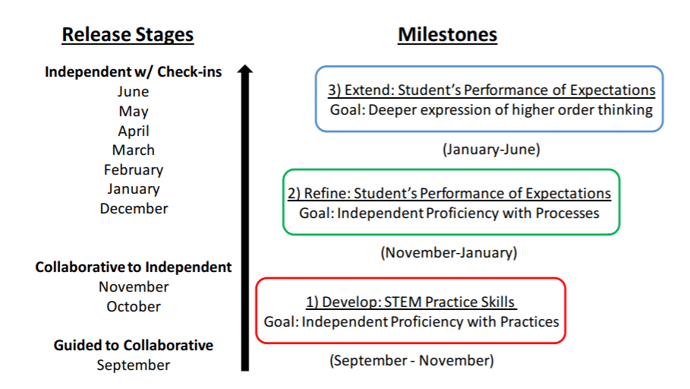 The release of responsibility progresses from September through June, guiding students from collaborative learning models through partial independence to full independence with teacher check-ins. Full release of responsibility is a process that should span September through June.
The first step:

Develop STEM practice skills with the goal of independent proficiency with the practices.

Remember that practices make up the stuff of the processes, so learning those practices is crucial for students to engage in science and engineering as processes. You should look for curriculum that has this take place from September through November, because it takes about 10 weeks for students to form a habit and a clear understanding of expectations, so this is just enough time for them to learn to reach that goal of independent proficiency with practices.

Around Thanksgiving, we can shift our thinking to refining those performance expectations of students. By now, they are working in small teams. Teamwork and collaboration are well-documented 21st-century skills, so we definitely want to encourage them. This process continues toward January, supporting students in developing independent proficiency with the processes.

Come January, it's time to release responsibility almost fully, with the proviso that students still check in with teachers on a regular basis. For the rest of the year, however, the goal is to enable them to engage independently with the material, extending their performance of the NGSS expectations and helping them deepen their expression of higher order thinking skills.
Critical Release Milestones
We addressed these milestones for the full release of responsibility above, but let's go into them in a little more depth.
Here is a basic breakdown of these critical release-of-responsibility milestones:
September – November

Develop: STEM Practice Skills
Goal: Independent Proficiency with Practices

November – January

Refine: Student's Performance of Expectations
Goal: Independent Proficiency with Processes

January – June

Extend: Student's Performance of Expectations
Goal: Deeper expression of higher order thinking
At the beginning of the year, students are going to be clustered around similar ideas and similar approaches to things. During that time, we won't press for them to break away from those similarities, but rather will focus on engaging them with the STEM practice skills so they can become proficient at using them.
Even if their ideas are relatively similar to one another and we aren't yet seeing a lot of that higher order thinking, which is eventually the goal, students must have time to become familiar with the practices and process that make up science and engineering.
By January, however, we as teachers are starting to push them to really think out of the box and try things differently. We're expecting more independence in their use of process, which they're now somewhat familiar with. This is a continuum that goes on January through June.
Now, it doesn't mean that the teacher isn't involved and students are sent off by themselves and only turn something in at the end of the day, which then gets evaluated. Rather, our goal is to develop independent proficiency with processes. While the students are working in these groups, we expect them independently to have with proficiency the processes.
It doesn't mean they're perfect, but our goal is that by mid-January students are able to answer questions or solve problems as scientists and engineers. That enables us as teachers to change our focus to extending the students' performance expectations with the goal of much deeper expression of higher order thinking. That higher order thinking is what will occur throughout the rest of the year, with more and more independence for students.
So what resources do we need to help ensure this happens? The answer is simple: high quality curriculum.
Teachers will need grade-level-specific, nurturing curriculum to help them cultivate student understanding, engage students in the practices, and give them rich, hands-on experiences that put them in the role of scientist or engineer.
This extends far beyond mapping, and requires that teachers use resources that put students in an inquiry context. That's what curriculum is all about.