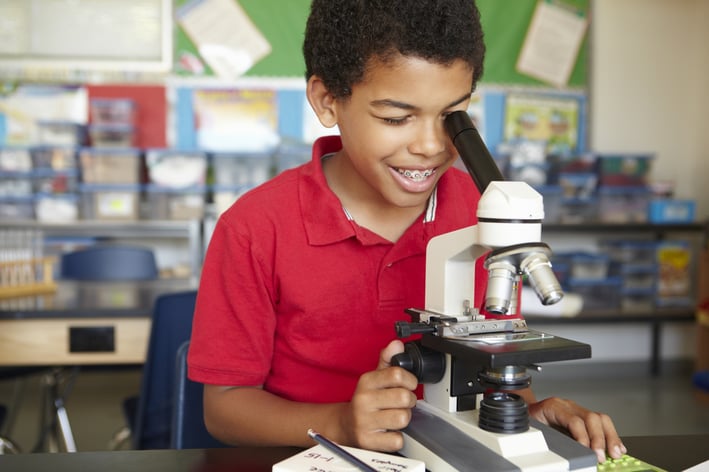 Effective implementation of the Next Generation Science Standards (NGSS) is not random or accidental. Rather, it requires a very intentional approach to putting the curriculum and performance expectations in place. It is unlikely – and probably impossible – that this will occur without careful attention to the correct approach.
There are seven principles of effective NGSS implementation that can guide teachers and administrators as they begin a new school year.
Principle 1: You need a system of instruction to meet the new system of performance expectations.
Meaningful, lasting learning—which is ultimately the purpose of the Next Generation Science Standards—can only occur when the science instruction provides students with a framework that builds from one year to the next and connects the concepts in a systematic way.
This is because unlike more traditional standards, NGSS's performance expectations aren't designed to be stand-alone, isolated concepts. Instead, they are designed as a system, to intersect and connect with many other standards.
To successfully implement NGSS, you will need to ensure that you have a system of instruction to meet this system of performance expectations. This is where the curriculum comes in. Your curriculum needs to be backed by the standards, but it also needs to go beyond the standardsto make connections, introduce new concepts, and reinforce those that have already been learned. The curriculum needs to nurture students as they move through the year and from one grade level to the next, using the grade-span standards in different groupings to explore a variety of contexts.
Ensuring that your curriculum allows for this kind of systematic instruction to occur is the first step toward a successful NGSS implementation.
Principle 2: You need to shift the habits and skills of everyone involved: students, teachers, and administrators.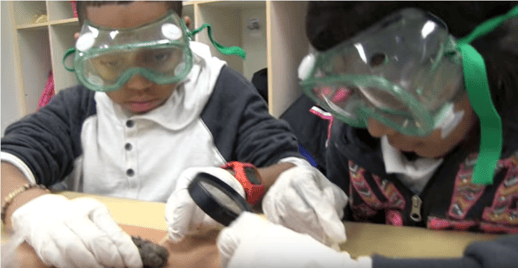 Students will need to develop new habits and skills in this new inquiry environment.
Learning under this new system of instruction will require new habits from both students and teachers to achieve effective STEM instruction. Students will need to come up with their best ideas, work with the resource base they have to try and create a solution, test it, and use that information to reflect back on the solution. That's real learning, and it involves different habits and skills from a traditional learning environment.
To achieve this inquiry environment, teachers and administrators will also have to change how they allocate time on learning. If you are the kind of district that is value-oriented and teaching to transform and improve students' critical thinking skills as well as scores, then you need adequate time on learning. This includes allocating enough time throughout the week for science, as well as making ELA and math a necessary part of your NGSS classrooms.
Principle 3: You need to ensure horizontal, vertical, and developmental coherence.
Horizontal coherence is all about classroom-level consistency. In other words, it occurs when your curriculum and curriculum supports connect with and support the instructional pedagogy going on in the classroom, and all of the pieces work together to create a next generation inquiry environment where students are learning as scientists and engineers.
Vertical coherence is all about district-level consistency. What this means is that the district is designing its communications approach around the state standards, with the result that goals, objectives, curriculum, and pedagogy become shared throughout the whole district on a building-to-building level.
And finally, developmental coherence is all about nurturing the depth of student understanding and scaling from one grade level to the next. It's the idea that you are nurturing students as they transition from kindergarten to 1st grade to 2nd grade and so on to create an understanding by design across grade levels.
Principle 4: You need to re-imagine both school and district supports.
Ways to support both schools and districts can be boiled down to two: quality curriculum and leadership development. The curriculum needs to be fully designed for the National Research Council's vision for NGSS instruction at the K-12 levels. Plain and simple, the recommendations by the National Research Council that the Next Generation Science Standards represent enable excellent teaching and learning. Who doesn't want to be more authentic and engaged? What student doesn't want to try for themselves?
Once you have those resources in place, it's time for your teams to work the resources and reflect on the challenges. It's very important that you work the resources as they're intended to be implemented. Many people won't take this approach because it's overwhelming or they think they only need some of it in order to succeed.
Also needed for success is leadership at each level within your district – the teacher level, the principal level, and the administrator level. When everyone is on the same page, it becomes much easier to compare and come to a greater understanding of how to use the materials and implement next generation science education.
Principle 5: You need to establish better collaboration, networking, and partnerships.
States, districts, and buildings all form cultures as a result of the same leadership styles from principal, superintendent, and so on. Similarly, culture is formed at a state level as a result of what is communicated from the state on down.
At this point, you have a real opportunity to get outside of that. The Next Generation Science Standards are being used by dozens of states, which provides a chance for interoperability. If you make the effort, you can observe apples-to-apples what somebody else is doing. There are great things going on all over the country, and anyone can improve if they make the effort.
Principle 6: You need to tackle hidden curriculum equity issues.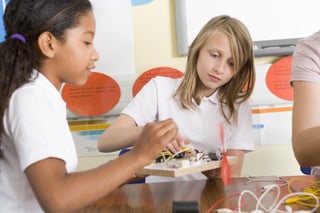 In order to effectively implement next generation science in any classroom or district, you must tackle head-on any hidden curriculum equity issues. The obvious inequity issue that comes to mind for most is gender bias, but content bias is another important one to discuss.
We need to allow students to access the content on their own, with a release of responsibility that enables them to fully take on the roles of scientists and engineers. Students only really access the curriculum when they have control over it, when they can dig into it and experience what works and what doesn't.
Students with special needs or on remedial plans also need access to science. Too often, students who receive differentiated instruction see diminished or nonexistent science time. Science belongs in IEPs, though. If a student has an IEP for ELA or for math, then they should have some element of science in their IEP as well.
Principle 7: You need to make internal communication and learning walks regular and relevant.
Even if you have all of the other principles taken care of, successful implementation will be challenging without effective communication. Part of this communication includes getting an ongoing snapshot of the teaching and learning taking place in a particular classroom or setting.
As an administrator or principal, it is critical to regularly and publicly articulate your vision for science, your perspective on the progress so far, and the goals that you have for the short term. The goal is to keep teachers and other educators in the loop regarding what everyone is out to accomplish.
As a teacher, one of the best things to do is take advantage of every professional development opportunity. We need to ask any and all questions, focusing first on understanding why things are being done the way they are.
In conclusion, it is critical not only to implement the Next Generation Science Standards, and soon, but also to implement them correctly and effectively. Our students' futures depend on developing and honing their critical thinking skills in order to prepare them for higher education and career, whether or not they actually go into STEM fields.