Wonder how to meet the curriculum & instructional needs of Next Generation Science Standards?
The integration of science and engineering practices.
Designed as performance expectations, NGSS expect students to be able to demonstrate their understanding of content by developing and using it with practice skills they've mastered.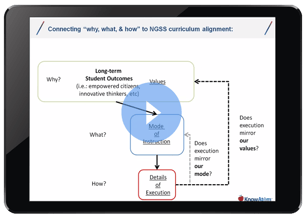 Join us for a discussion of what's required to authentically engage student interest and nurture their skills for NGSS within grade-levels and as a district.
What you'll take away:
A clear definition of effective STEM instruction under NGSS

Classroom-level: essential criteria & tools for classroom lesson and unit alignment

District-level: essential criteria & tools for grade-level resource alignment




Example resources aligned for NGSS using EQuIP and PEEC performance criteria
When: Available now. Fill out the form on the right for a link.
Who should watch: K-12: teachers, principals, curriculum administrators, out-of-school-time programs, and educator preparation programs