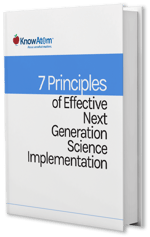 Who should read this eBook:
K-8 teacher leaders
School and district administrators
---
The Next Generation Science Standards give educators a perfect framework for producing students capable of competing at a global level in STEM (science, technology, engineering, and math). However, to achieve these results, the standards must be implemented effectively.
Effective implementation of the Next Generation Science Standards is not random or accidental. Instead, it requires an intentional effort to put the curriculum and performance expectations in place. There are seven principles that will help any district or school effectively implement the new standards.
In this eBook, you'll find answers to questions like:
What makes implementing NGSS unique?
What's required to implement the changes successfully in grades K-8?
What are the 7 principles for effectively implementing NGSS?
Fill out the form on the right to get your free eBook now.