Phenomena driven instruction in NGSS-aligned classrooms clearly demonstrates that using these methods creates significantly higher percentages of advanced and proficient students versus their respective state's average.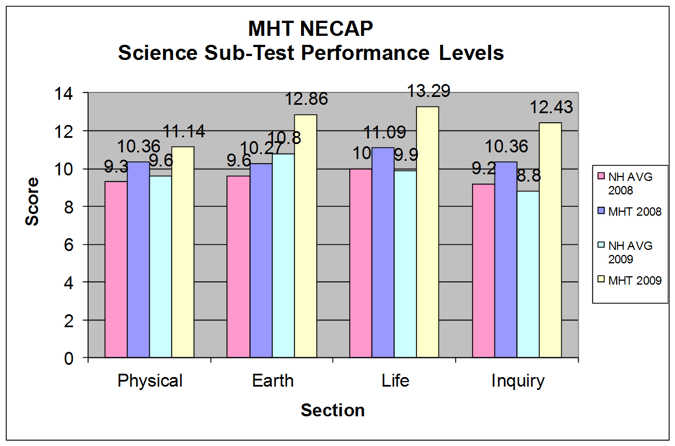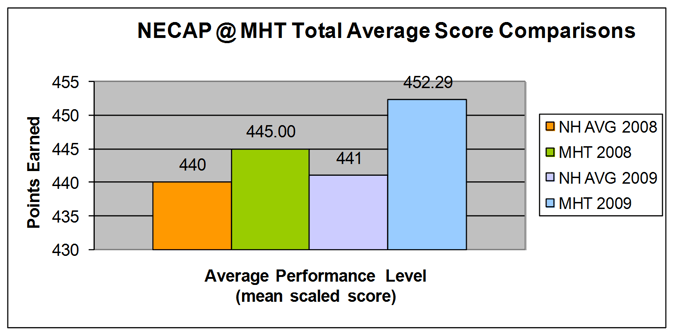 If you look at this graph above, you can see historical data from early testing with a rigorous next generation approach to pedagogy, even prior to NGSS standards, and KnowAtom resulting in better than average results. KnowAtom's CEO (and teacher) Francis Vigeant's classrooms performed approximately 40% above New Hampshire state average as you can see in the graphs above. You can see what an enormous difference a rigorous next generation approach to science and engineering makes even in an average public school classroom. These kind of results are not uncommon among KnowAtom's clients today under our latest, fully NGSS-aligned and state specific science and engineering curriculum.
We have seen urban schools with 75 percent high-needs, 72 percent low-income and 35 percent ELL populations still performing at extremely high rates, going from well below the national average of 50 percent advanced and proficient all the way up to 86 or 89 percent. This isn't only the story in high-needs and low-income districts. Even in districts with only 20 percent high-needs and 7 percent low-income, schools can still see and sustain giant gains.
We have even seen top performing suburban schools like Carlisle push their performance even higher above their peers, not by focusing on drilling facts or a test but rather by focusing on developing student skills and thinking and helping them develop the skills to navigate unfamiliar contexts with the knowledge and skills they have.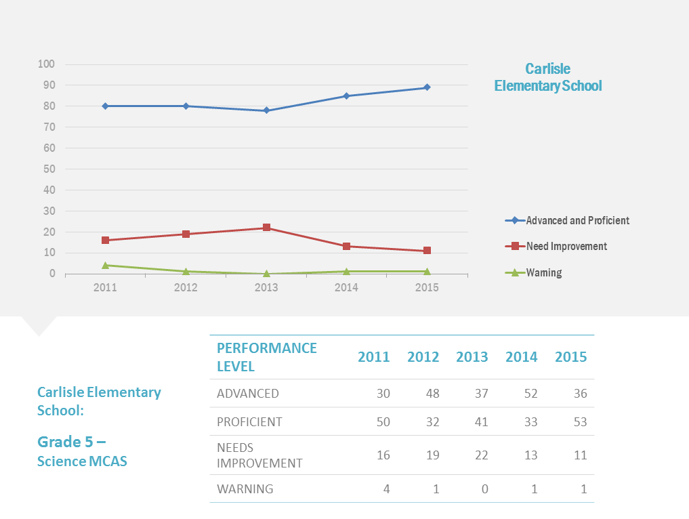 Even the highest-performing Massachusetts district still made gains when introduced to a new method of teaching STEM.
Above you can see the highest performing district in the entire state. Even in this district, the new mode of instruction created a bump up to the 90 percent advanced and proficient level and a dip in needs improvement.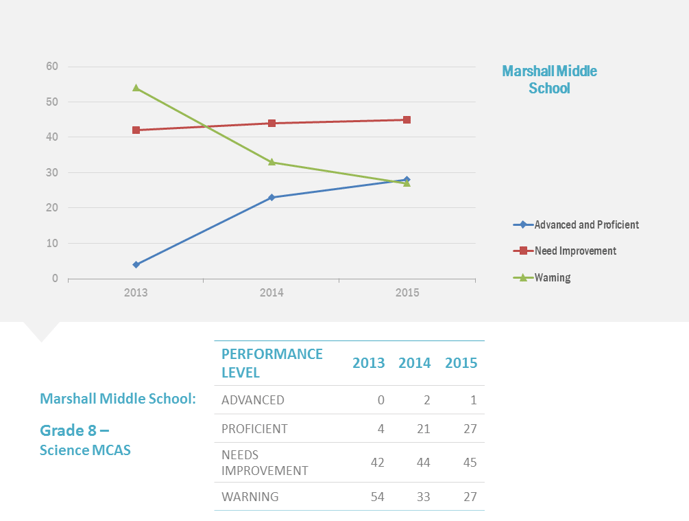 Even low-performing schools can be substantially changed over a period of just a few years, this one seeing a huge decrease in warning and an increase in advanced and proficient levels.
Even the lowest middle schools like the one above in Lynn MA are significantly improved by the introduction of curricula such as KnowAtom's. Lest you think specialists are teaching in these classrooms, it's important to point out that these scores are just average teachers doing things a little differently, trying to better themselves, their students and their communities. These teachers have a firmer grasp of the seven habits than others who aren't teaching this way, but there is no magic element to this equation. In places like Oakland California we have clients such as Downtown Academy Charter with well over 90% of their students scoring advanced and proficient on California Science Standards Assessment Program.
One of the biggest issues standing in the way of teaching and scoring like this is focus on test scores. When you're so fixated on keeping students in their seats, prepping for tests and ensuring they're doing what they're told, it's difficult to encourage the higher order thinking skills and independence necessary to meet the NGSS performance expectations. In other cases, teachers might believe in the importance of less point-to-point structure, so they aren't teaching to the tests, but their instruction or curriculum lacks cohesive direction so critical to creating students who think as scientists and engineers do.
The bottom line is that skill development is difficult. When teachers lack that expectation, they create a tough road for many students, who don't know how to stick with difficult experiences in order to see the gains at the end. To avoid this, we need to instill a firm culture in our classrooms of belief in children, expectation that they will move through the confusing and difficult demands of STEM education, and confidence that they can and will move from not being able to do something yet to achieving their goals. This can only happen, however, if teachers set the stage for it through these seven habits.
That's what we do here at KnowAtom, and what we encourage you to do in your classroom and district. Only then can we create students fully capable of engaging fully in higher education, college and career, and adding to the innovation and wealth of our society as a whole.