As teachers read the NGSS, they see a clear progression of Next Generation Science Standards by grade level. From kindergarten to middle school, the standards increase in complexity as students grow and learn. When rooted in next generation pedagogy, the standards expand with the capacity of the student.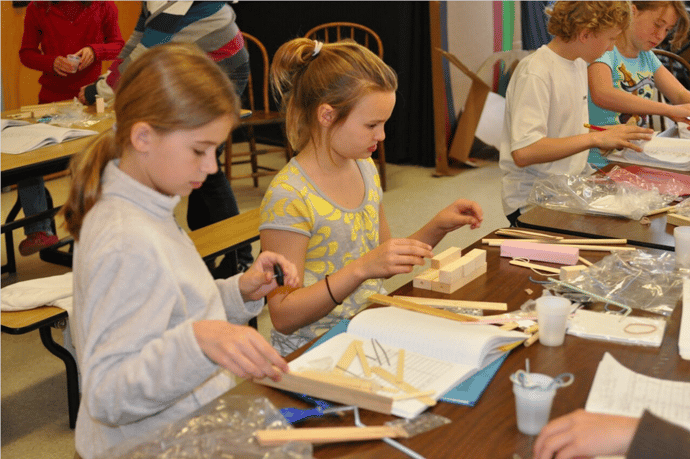 Students carrying out investigations they've planned themselves in notebooks, acting independently with the teacher acting as guide.
The expectations of the standards intentionally align from year-to-year. For students to reach mastery, a strong curriculum must do the same. This is vitally important because of the rigor and complexity of the NGSS standards themselves. NGSS standards are three dimensional. They involve skills, content knowledge, and reasoning across different disciplinary core ideas. Kindergarten and first grade students might be exploring simple investigative phenomenon, but their learning is still following the three dimensions of NGSS, laying the foundation for mastering performance expectations to come in future grades.
By 4th and 5th grades, students are being challenged by more complex investigative phenomena and planning their own investigations. The complexity of phenomena found in NGSS middle school units propel students to even higher performance levels. At this point in the progression, students are reasoning through the role of independent variables, dependent variables, and controls.
This alignment develops not only a progression of learning content, but also promotes a progression of complexity in thinking about how all STEM areas interact.
With the appropriate curriculum and support, students can reach a point where they have developed these habits as a way of engaging in the world around them and can approach problems and questions by gathering their own evidence to support or refute a claim.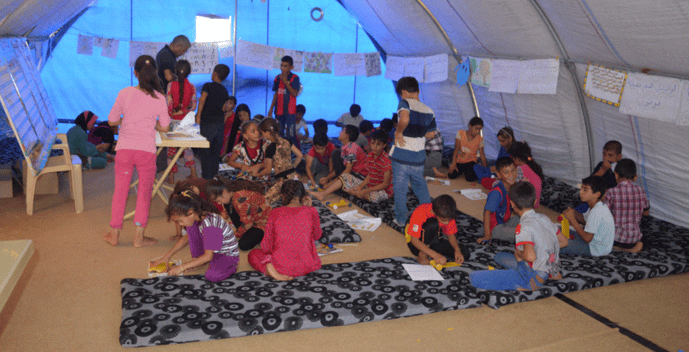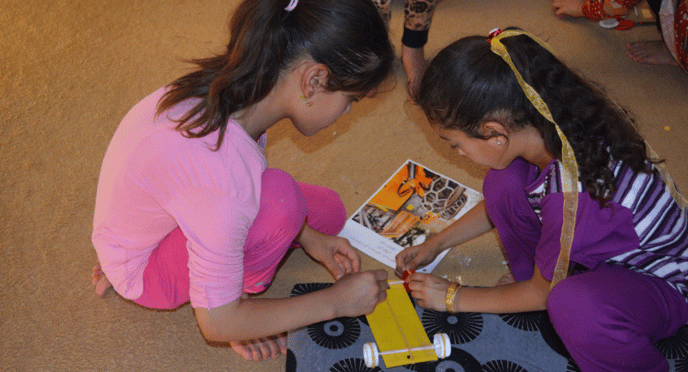 Next generation inquiry isn't about fancy equipment, but rather about using the phenomena available in the real world. That way, any context can become a scientific or engineering context. These refugee students in Northern Iraq are as successful as scientists and engineers as American counterparts in fully outfitted classrooms.
Next Generation Science Standards by Grade Level – Changing the Pedagogy
Because NGSS standards ask something different from traditional teachers, the instruction model will also look different. In a more traditional classroom model, the teacher uses direction-based instruction, guided practice, and independent practice to teach (sometimes described as "I do, we do, you do"). The NGSS creates an opportunity for a more interactive, dynamic, and non-linear process for students by focusing on expectations and modeling language and thinking in place of cookie-cutter demonstrations and how-to style directions.
This results in students using their knowledge and discovering why things are important even before they may realize something is important. NGSS creates an opportunity for learning where students encounter anchor phenomenon. They see it. They start to build a framework of understanding. They link it to a personal context, an observation, and then later it becomes more and more valuable as they try to use what they've observed digging in to investigative phenomena to explain their ideas.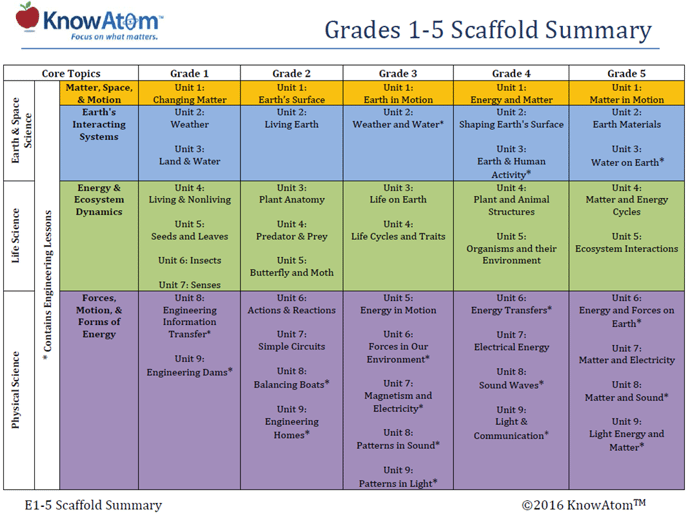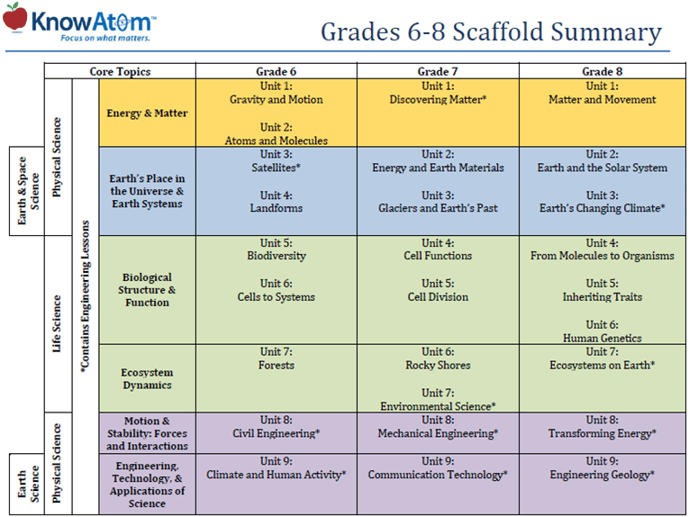 These scaffolded summaries of units and lessons by grade level are very intentional, carefully structured to build on what has come before.
In elementary school Next Generation Science Standards call for specific performance expectations by grade level. Because the standards are systematic in nature, our aligned Next Generation kits are a perfect solution for K-8 science.
NGSS Scope and Sequence Elementary
If you look at the 2nd grade science learning progression in the images above, you can see that the year begins with learning about Earth's surface. It progresses to talking about the living Earth, which contrasts with other planets in the system. Then, the storyline expands on that concept by examining different aspects of life, such as plants, animal relationships and life cycles.
From there, students move on to learning about actions and reactions. They study how energy transfers not only through living organisms, food chains, and food webs, but also through inanimate objects and physical systems. By the end of the year, students are building circuits, balancing boats, and engineering homes. They have progressed from gaining scientific knowledge and skills investigating questions about observable phenomena to actually solving problems as engineers.
The goal of the Next Generation Science Standards is to intentionally develop content and skills at every learning opportunity, giving students the opportunity to use science and engineering practices, to develop and use content and to encounter phenomenon that connects from one unit to the next all year long.
It's also important to avoid systemic gaps in curriculum. If you are working with a true next generation model of science inquiry, teachers need to know the prior standards taught in the grade before and the next step for students in the following year. The NGSS scope and sequence for elementary should be vertically aligned for this to occur. The best integrated models for NGSS science like KnowAtom do this by design.
In other words, a deep dive into NGSS must be more than just exposure to concepts and terminology. Students must encounter opportunities to perform hands-on with investigative phenomena in each dimension. Teachers who resist the temptation to believe that standards can be "covered" and then moved past realize that students must learn more deeply.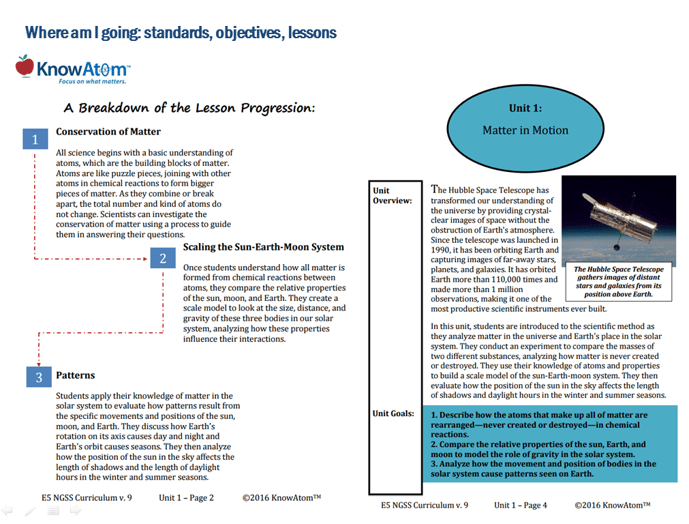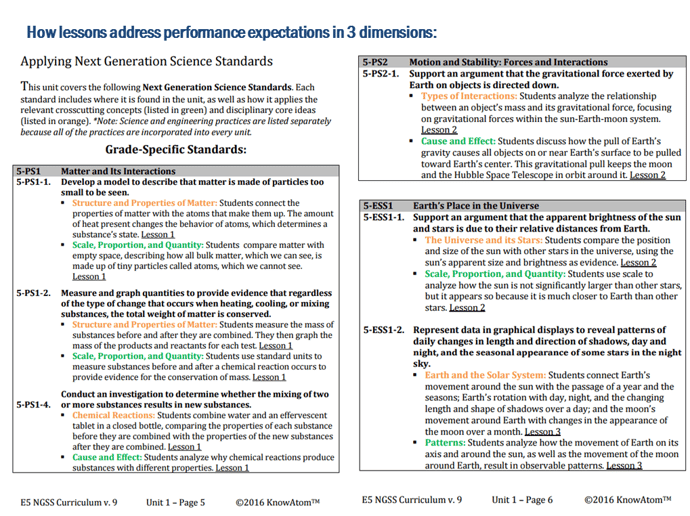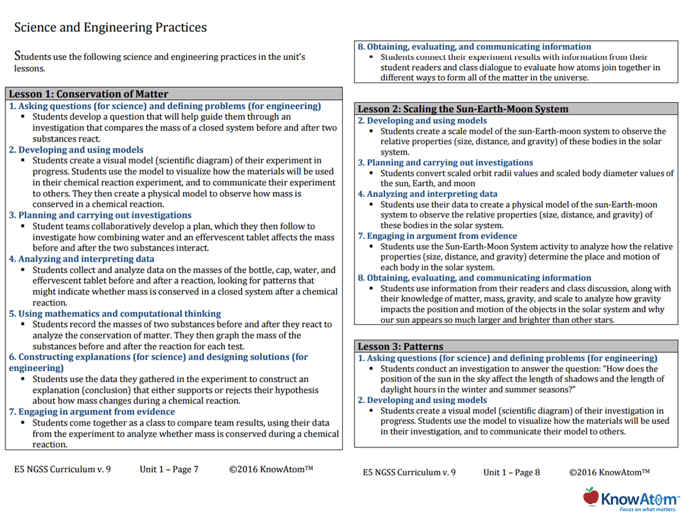 One of our Grade 5 lessons, outlining broad unit goals and a brief breakdown of the unit progression.
NGSS Middle School Progression
The intent of vertical alignment in science that we saw in the NGSS scope and sequence for elementary is reflected in the aligned progression of lessons as students move to middle school NGSS standards. The above image comes from the front page of a Grade 5 lesson for NGSS, where we outline broad unit goals and give a brief rundown of how those grade-specific standards are unpacked and connected within different lessons of the unit. KnowAtom takes the time to outline how supporting standards from prior grade levels enhance learning and how these standards are relevant in current and future grade levels.
Changing Strategies As Students Grow
Teaching inquiry-based science at the kindergarten through 8th grade level does bring some very specific challenges. Using anchor and investigative phenomena as the basis of instruction effectively requires a change from the traditional approach to K-8 science.
At early elementary grade level, from kindergarten to 2nd grade, one of the key challenges is having strategies to overcome reading, or the lack thereof. For example, classroom read-aloud and picture-thinking routines support both emerging and proficient readers.
Another challenge in the early years has to do with fine motor issues. Students at this level are still developing their fine motor skills, so the opportunities for prototyping and experimentation need to be thoughtfully considered. The value for student learning is found in engaging in higher order thinking and developing and using skills in a context, not in cutting boxes or drawing circles. Neither the student nor the teacher wants to spend valuable time cutting and pasting when the objective of the lesson is strategic reasoning and extended thinking.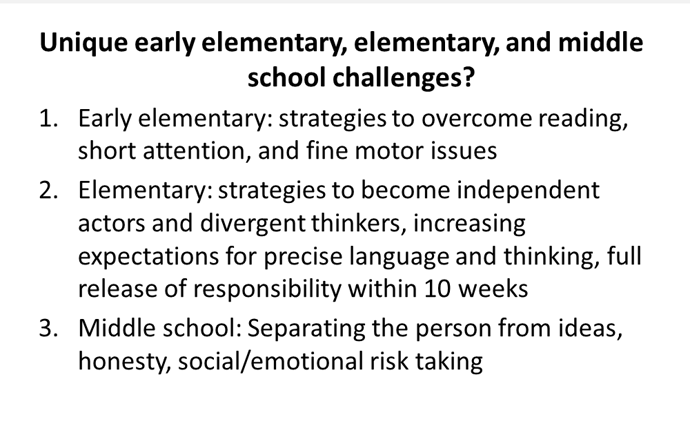 At the elementary level, from grades 3 through 5, the next step is to push students to become even more independent learners in the classroom, to create authentic opportunities to engage their thinking.
This engagement requires several subtle shifts. It means increasing the expectations that you have for academic science vocabulary. The words "stuff" or "thing" aren't sufficient; science requires precise thinking and language. Teachers will need to adapt to using formative assessment techniques to both model and coach thinking as a tool students can use as scientists do.
It's also helpful when teachers stive for full release of responsibility to students within the first 10 weeks of the school year. Release of responsibility gives students both the chance to learn NGSS skills independently and the chance to learn from their failures in the scientific process. Students learning and reflecting from their failures helps them to learn more deeply. Remember that learning in this context – in an inquiry environment, anchoring phenomena and pursuing investigative phenomena is the pathway to mastering Next Generation performance expectations – means investigating what students observe but don't already know.
At a middle school level, and even at an upper elementary level, it becomes very important to make learning a safe space by separating judgment of evidence for an idea form the person who came up with that idea. Students need to understand that somebody's idea may be true or false, supported or unsupported, but that fact is separate and not reflective of the individual, who they are, what they are and their value. The culture of thinking in an NGSS classroom need to be a safe space for intellectual rigor.
Being honest with ourselves can become a big issue. This is tied to the social emotional risk-taking that students (and adults) can often avoid. This challenge can be overcome to create an authentic environment driven by a broad anchor phenomenon at first and then a more specific student-centered investigative phenomena as a lesson unfolds.
Here at KnowAtom, we believe in supporting teachers with an exceptional model of science instruction and the best NGSS units. When you nurture students to interact and investigate their world, they become engaged as scientists and engineers. KnowAtom is designed to follow the progression of the Next Generation Science Standards. Find out more about our Next Generation kits here.