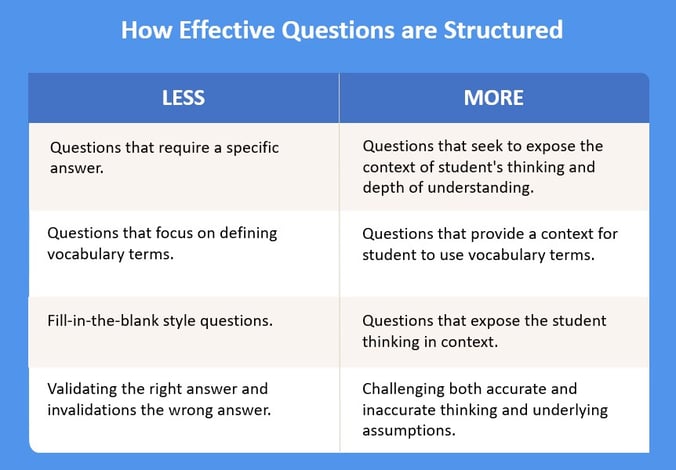 One of the most important things we can teach our students, no matter what grade level or topic you teach, is how to ask good questions.
When I think about this important topic, I can't help but consider how my teaching style has changed over the past 20 years. Today, when I think about how to support student centered learning in my classroom, I want to make sure that I am modeling good questions. That's because teacher modeling is an important way to teach students how to ask good questions themselves.
In this article, I am going to share with you what a good question looks like and how to teach your students ways to identify and use them effectively.
Student-Centered Teaching



A student-centered classroom starts with the teacher. We've learned that we can improve student engagement and achieve better outcomes by giving up some of the control we have as teachers.
Students who are given an active role in the classroom have more opportunities to think critically about the concepts and how they relate to the world around them. Rather than asking students to read and memorize, we need to be asking them to collaborate with their peers, discover new ideas, and make strong connections.
With student-centered learning, giving students a voice in the classroom helps improve student engagement, but students need to develop the skills to take the lead. Learning how to ask authentic questions of their peers, their teachers, and their sources – is a great way to start.
Student-Centered Teaching and Asking Good Questions
Good questions are good questions regardless of who you're interacting with or what subject you're teaching. If you're not a KnowAtom teacher, if you're a teacher who teaches another subject, a parent, or a principal, all of these things will apply to your students as well!
Let's look first at where we can expect students to ask good questions when implementing a student-centered approach during a lesson.

KnowAtom's science curriculum starts off with a nonfiction reading component every time. That's where a lot of the questioning will happen in a student centered teaching model.
From there, we move on to Socratic dialogue, where students discuss the questions, wonders, or connections they made from the reading. Questioning plays a big part in this section of the lesson and if we can improve our students' questioning skills, we can improve our classroom dialogue.

Students then move into planning, and we ask them to think like scientists or engineers. That entails a lot of questions about what's going to happen in the hands-on investigation portion of the unit. Then, the students carry out their investigation, experiment, or engineering activity. Lots and lots of questions are happening as part of this section as well.
Finally, students share their conclusions in a debrief. One of the things that I enjoy most with student centered learning is listening to students question each other about their data and their outcomes.
Why Encourage Questioning in Student Centered Learning?
What's the purpose of questions? The main purpose of encouraging students to ask good questions is to engage them in taking a position on a concept or big idea from the reading. When you think about it, that's a really risky proposition. Perhaps that's why when I first started teaching, I asked questions like "What is a hurricane?" rather than "How are hurricanes related to the water cycle?"
Continue reading