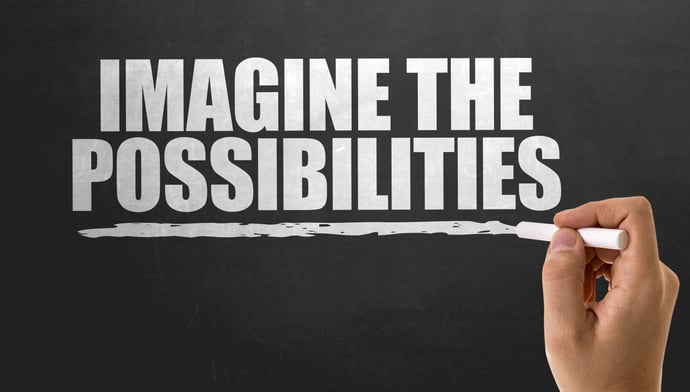 "Judge a man by his questions rather than by his answers."
-Voltaire
What Are Thinking Routines?
Thinking routines allow you to give your students the tools they need to make their thinking visible. Instead of telling students what to think, we can introduce routines that students can use as tools to become skillful independent thinkers.

Thinking routines work best when they are just that - routines. Using thinking routines with your students will create habits for them to be successful lifelong learners.

The What Can Be thinking routine asks students to discuss unfolding complexities and to imagine the future opportunities created by the unfolding situation. By unpacking complexity, students can engage more deeply with a concept. This creates opportunities for skillful thinking both in and out of the classroom.
What is the What Can Be Thinking Routine?
The What Can Be thinking routine can be implemented at any grade level and with any subject. In this routine, students explore what has been, what has changed, how these changes came about, and what future opportunities they may create. Teachers who develop a culture of thinking in their classroom create an environment where students learn to think and ask questions as a way of learning.
Selecting Content
Change is inevitable, and change can be exciting! When you select content with the What Can Be thinking routine, think about the potential to explore change in such a way that would allow students to solve a problem, create an alternative, or make something completely new. Challenge students to reimagine anything from objects, ideas, narratives, or even systems.

This thinking routine can be utilized at any time during the learning process. You might use it at the beginning of a unit to introduce an idea or at the end of a unit to explore a deeper understanding. This routine also helps challenge the status quo. The world is not stagnant, and students will benefit from exploring this concept.
Steps for the What Can Be Thinking Routine
Using the What Can Be thinking routine involves three main steps:
Review: How did this situation come to be? What factors caused or influenced it?
Predict: How might this situation unfold as time goes on? How might the things causing this situation change in the future?
Imagine: If your predictions are accurate, what challenges might lie ahead? What opportunities or challenges might be created as a result?
Scaffolding the Discussion
To support student engagement during the What Can Be thinking routine, consider the following scaffolds:
Determine an estimated amount of time you can devote to the routine. Remember that the discussion may take longer than expected as students get excited about new ideas!


Try breaking into smaller groups. Small groups help create a safe space for students to share their ideas.


Provide students with the free "What Can Be graphic organizer from KnowAtom. The organizer can be given to students to prepare for the discussion ahead of time or during the discussion to keep track of their ideas. Some students will be eager to share ideas aloud, and others will not. Maintaining a safe space for sharing ideas is key to encouraging students to take the risk of making their thinking visible to others.


Write the steps on the board or post the free KnowAtom "What Can Be" anchor chart to support the discussion.


Record discussion points on the board as students share their thoughts to support the conversation. Use sentence frames such as, "What makes you think that?" and "Why do you think that will happen?"


Consider combining this thinking routine with the "Generate Sort Connect" Thinking Routine.


Use visuals to create space and purpose. Visuals could include images, science tools, or props.
The What Can Be thinking routine could be your key to unlocking the imaginations of all of your students! Create deeper learning and a culture of student thinking. Download the free "What Can Be" anchor chart from KnowAtom to use in your classroom.
Ready to learn even more about thinking routines? Visit this page dedicated to the topic.
Sources:
http://www.pz.harvard.edu/thinking-routines
http://www.pz.harvard.edu/sites/default/files/What%20Can%20Be.pdf
Ritchhart, R., Church, M., & Morrison, K. (2011). Making thinking visible. Jossey Bass Wiley.