A new era of learning has arrived. The Next Generation Science Standards (NGSS) for K-12 has dramatically transformed the way students learn, leading to a deeper level of understanding of critical scientific concepts. The eight fundamental science practices of the NGSS are designed to generate curricula that nurtures students' capacity to think critically about key scientific theories, utilize skills learned in other areas of study to communicate their findings, and collaborate with their peers to work towards common goals.
The NGSS was established out of a need to reform the way U.S. educational institutions think about teaching science in the classroom. Pew Research Center reports that, globally, "U.S. students continue to rank around the middle of the pack", placing 38th in math and 24th in science out of the 71 countries evaluated. Educational curriculum development leaders like KnowAtom have faced the significance of these findings head-on by creating proactive methods to address known shortcomings in traditional instruction and classroom culture necessary to advance student performance results in U.S. institutions.
Third-Party Research Results
A study conducted by Northeastern University examined how adoption of the NGSS affected teachers and students following the KnowAtom curriculum. KnowAtom was specifically designed to adhere to the NGSS standards and, therefore, makes KnowAtom educators a prime source of information for discovering the effectiveness of applying NGSS teaching methods. Overall, teachers observed "an increase in collaboration, improvement in test scores, increase in academic vocabulary and discourse, and an increase in participation. They also saw students more engaged, which resulted in better behavior in the science classroom."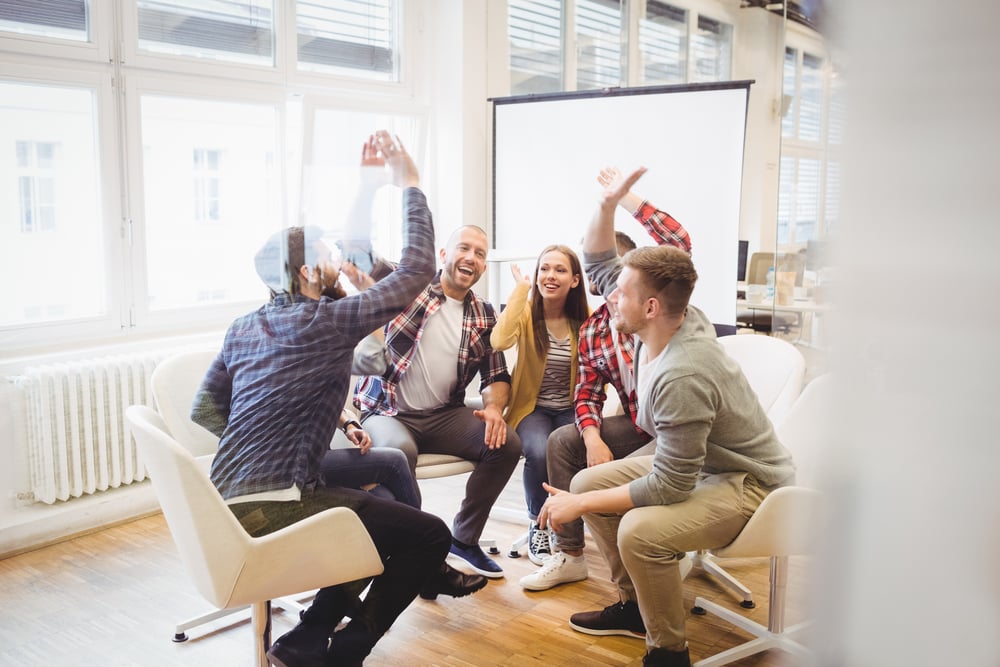 These overwhelmingly positive results are a direct result of the NGSS and its emphasis on changing how teachers think about students' role in the teaching process, which has historically been passive. However, NGSS stresses the importance of active learning, which, as defined by Cornell University's Center for Teaching Innovation, encourages students to "fully participate in their learning by thinking, discussing, investigating, and creating." Opening the door to allowing students to challenge and discuss scientific principles is paramount to advancing proficiency in language, critical thinking, and teamwork.
Areas Teachers Saw Improvements in Students
Focus and Classroom Behavior
Students were reportedly calmer, less distracted, and more engaged with the hands-on learning approaches utilized by KnowAtom teachers. These better behaviors were attributed to students having more autonomy, freedom of movement, and the ability to make decisions for themselves, and immerse themselves in these interactive learning environments cultivated by NGSS guidelines.
Standardized Test Scores
Teachers saw improvements in standardized testing scores, including MAP (Measure of Academic Performance) scores in mathematics that were "the highest in the district", science scores that had been "previously unheard of for [their] district", and MCAS scores in reading that were the "highest on the nonfiction section".
Teamwork
The emphasis placed on collaborative problem solving was highly successful in helping students understand the importance of cooperation. Students were more motivated to help each other because "they know they only succeed if their whole team works together". Teachers likewise adopted new conceptions about the importance of teamwork in classroom activities, agreeing that "student collaboration can greatly impact learning outcomes".
Changes in Educators' Beliefs on Teaching and Learning
Perhaps most importantly are the changes teachers observed in themselves. Among these findings is the key observation that active learning transitions the teacher's role from a lecturer to a learning facilitator, which inherently gives students more responsibility in their learning process through dynamic classroom activities. While the new curriculum is focused on developing "next generation skills"—namely, science and technology—the teachers found that the NGSS science curriculum has inherently strong connections with other core subjects, particularly mathematics and language arts. The teachers also reported shifted beliefs that Socratic dialogue, partner work, and group exercises "can greatly impact learning outcomes", and that creative approaches should be used to help struggling readers across all demographics access grade-level reading.
Impact of Research Findings on Future Changes in Education
The clear results of the Northeastern University case study help educators, parents, and students make informed choices regarding science education. Targeted educational programs that follow NGSS guideless positively affect students' engagement, standardized test scores, and collaboration, in addition to the way teachers view the education process. Understanding the impact of how NGSS curriculum like KnowAtom benefits students and teachers is critical to pursuing effective programs that will transform the way U.S. schools compete in a global landscape.