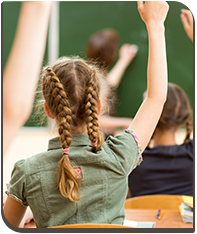 Kentucky Science Standards have received widespread support from teachers around the state, who cite the new standards as having the power to both support learning and truly interest students in science and engineering. For that reason, the Next Generation Science Standards – better known in the state as the Kentucky Academic Standards for Science (Science KAS) – have drawn praise and acclaim from educators.
As Tricia Shelton wrote in a November 2015 Courier-Journal piece, "As a science educator for more than 20 years, I have seen countless new initiatives come and go. Some of these efforts, while well-intentioned, weren't very effective in supporting student learning and igniting students' innate curiosity. But the Kentucky Academic Standards for Science (Science KAS) – which are based on the Next Generation Science Standards (NGSS) – have the potential to do both, and science teachers across our state have embraced them."
Shelton is no novice teacher, either. She's a science teacher and educational leader with over two decades' experience teaching science. She also won the 2014 National Science Teachers Association (NSTA) Distinguished Teaching Award and has contributed to science teaching publications.
It is perhaps not surprising that Kentucky's educators have thrown their weight behind these new standards and the difference they can make in the Kentucky Science Curriculum. After all, Kentucky was a Lead State Partner in the development of the Next Generation Science Standards, along with 25 other states, helping inform the direction of the standards and ensure they achieved their goal of giving students the skills they would need to succeed in higher education and a global workforce.
That said, it will be crucial to develop new science resources over the coming years that are aligned with NGSS. As Shelton says, "A classroom using Science KAS does not revolve around memorization of facts, worksheets, teacher lectures, and labs where everyone knows the expected, pre-planned outcome." Rather, "The Science KAS classroom is driven by students figuring out instead of just knowing about the world, and most importantly, these classrooms provide supports so all students can engage in the same science and engineering practices that scientists and engineers use every day."
But most importantly, Shelton points out, teachers will need to work together to make it happen. Developing curriculum that meets the rigorous 3-dimensional standards will be important. Students must not only learn the key concepts in various scientific fields (referred to by the standards as Disciplinary Core Ideas), they must link them together (Crosscutting Concepts) and access them with skills that actual scientists and engineers use everyday (Science and Engineering Practices).
The process is not without its challenges. "The biggest challenge for me this year is that I have very little time to grade assessments since I spend most of my time designing lessons that adequately address the science and engineering practices," Carla Wilson told Kentucky Teacher. Still, the process of creating new curriculum is a challenge many teachers have taken up happily, and have seen bear fruit even in the first year of implementation.
Wilson adds that the fact that students are accessing content on their own makes up for the difficulties that come with teaching in a more inquiry-based way: "I do worry about getting through all the content since lessons take me longer due to the discovery component of them, rather than feeding information to students. But I remind myself that they are getting more out of it because of the way they are experiencing science in the classroom now."
Interestingly, while neighbors like West Virginia battle it out over issues such as the climate change aspect of the Next Generation Science Standards, Kentucky seems fairly sanguine. Even the state's historically fraught relationship with evolution hasn't raised too many hackles.
For now, developing great curriculum remains at the forefront of science educators' minds. If you'd like to see what a next generation-aligned science curriculum looks like, you can see a sample unit and reader aligned to the new Kentucky Science Standards here. These examples follow EQuIP and PEEC guidelines for NGSS aligned science curriculum, and can take the guessing out of creating excellent curriculum for next genration science standards.