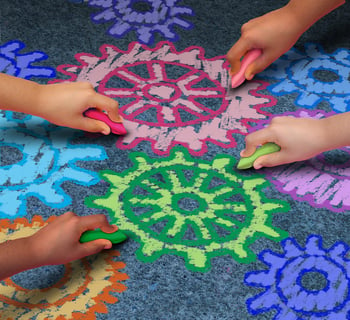 Imagine a school with a hyper-local perspective and a deep-seeded connection with the community that supports and surrounds it. A place where you'll find typical K-12 classrooms, but also a health clinic, continuing education programs and robust after-school opportunities open to everyone—not just students. A place where students learn the value of STEM education through relevant, hands-on learning that benefits the community.
It would look a lot like Sayre High School in Philadelphia, PA—a community school. Operating in collaboration with the University of Pennsylvania, this school is the center of the community universe, built to create collaborations between educators, businesses, government and students, and to support everyone from babies and teens to adults and seniors. Here, students and teachers work together to address health challenges like obesity and hypertension in the greater community, and the university then gives back, lending its pre-med, law and nursing students to Sayre's K-12 classrooms as guest teachers and mentors. Internships are also offered to the school's students by the college, further extending the circle of connection.
Community schools provide an unparalleled opportunity for engaging, inquiry-based STEM learning to help turn students into lifelong STEM learners and members of the high-tech workforce.
The Sayre program is a great example of how engaging, relevant STEM education can be particularly applicable—and beneficial—to a community school. When students are introduced to the world of science and technology in ways that connect to their lives and/or are modeled by professionals just a few years older than them, their interest is piqued. They discover a passion for the sciences, find validation in problem solving and clearly see a path toward future study and even future careers in STEM fields.
STEM on the Block
Following Sayre High School's lead, there are a number of ways community schools can use inquiry-based STEM curriculum to bring the real worlds of science, technology, engineering and math to life to expand their program's reach.
In school, STEM that's real and engaging captures students' interest easily and keeps learners hypothesizing, thinking, and discovering long past the final bell and considering careers in the sciences and technology after graduation.
After school, STEM can extend into the community with connected, collaborative initiatives that link curriculum with museum and art programs and other small business ventures, keeping learners engaged on evenings, weekends, and all year-round.
In the private sector, STEM-ready K-12 students grow into adults well positioned for high-tech careers. From the booming oil shale fields in rural Colorado in dire need of engineers, to the more than 100,000 healthcare jobs now available in San Antonio, to the growing need for tech workers in unlikely places like Raleigh-Cary, North Carolina (home to Citrix, Red Hat, Lexis-Nexis, and a growing list of others), it's becoming clear that creating a STEM-ready workforce is a smart path to enticing new industry and fostering economic growth.
Creating Community in Your Area
There are a number of ways to promote collaboration between private and nonprofit entities and schools to set the wheels of community education in motion:
Challenge the greater community to educate. Educators shouldn't be the only ones contributing to discovery, questioning, and creation in the community. Experiential learning can happen anywhere. In the realm of STEM, any place, from a sundial in a city park to the reptile house at the zoo or a firm-sponsored architecture tour, has the potential to connect with STEM curriculum in schools.
Get out and get personal. Reaching out to potential small businesses, nonprofits and governmental agencies is a good step toward getting the word out and starting conversations about how community and school can better connect. Edutopia suggests "sharing your dreams for community-school partnerships and asking people what matters to them and how they might contribute" as a solid first few questions.
Connect the curriculum. Inquiry-based STEM learning in the K-12 classroom is a perfect foundation for real-world learning outside the school walls. Consider ways to work with local businesses and subject matter experts to bridge the gap between in-school learning and in-the-world experience. And don't forget about the often-untapped decades of experience available in our cities' senior communities.