Who should read this eBook:
K-8 teacher leaders
School and district administrators
---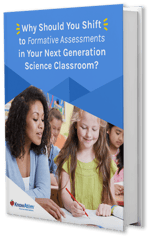 The Next Generation Science Standards are all about students developing the skills to work with ideas, both their own and those of others. This is a significant shift from traditional science instruction, one that will require changes from both teachers and students.
One of the most effective ways to achieve those changes is through the use of formative assessments.
In this eBook we'll address four related questions:
Why are formative assessments essential with next generation science instruction?
How do formative assessments benefit both teachers and students?
What do all formative assessments share that make them so useful?
What are concrete ways you can incorporate formative assessment into every aspect of your teaching?
Fill out the form on the right to get your free eBook now.