See how students in Emily G. Wetherbee School in Lawrence, Massachusetts, outperformed the Massachusetts state average in science.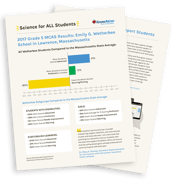 Wetherbee was one of 24 schools in Lawrence Public Schools to adopt KnowAtom's next generation K-8 science and engineering curriculum and hands-on resources in 2015-16.
Read this case study to find out how Wetherbee's partnership with KnowAtom has improved its students' success in science, as measured by the state's standardized science testing.
Fill out the form on the right to download now.