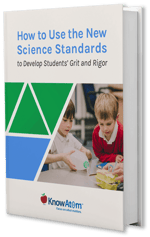 Who should read this eBook:
K-8 teacher leaders
School and district administrators
---
Grit and rigor are integral to the Next Generation Science Standards. At the same time, the standards are one of the most useful tools available to today's educators to help teach grit and rigor in our students.
Grit is integral to NGSS because STEM—science, technology, engineering, and math—requires it.
In this eBook, you'll find answers to questions like:
Why is grit important in next generation science education?
What is the link between student effort and student success?
How can you design curriculum that instills grit in students?
Fill out the form on the right to get your free eBook now.