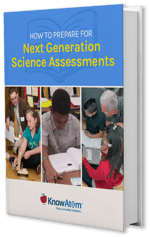 Who should read this eBook:
K-8 teacher leaders
School and district administrators
---
The assessments for the Next Generation Science Standards will look different from many more traditional assessments. At this moment, people are still waiting to see what an assessment designed specifically for NGSS looks like.
However, it's not necessary to wait for any ''official'' assessments to begin making the shift toward the next generation approach to assessment. If you understand what the Next Generation Science Standards are looking for, you can actually implement assessments now in your class and reap the benefits without having to wait.
In this eBook, you'll find answers to questions like:
How are next generation assessments different from more traditional assessments?
What are potential pitfalls in making the switch to next generation assessments?
How can these pitfalls be avoided?
Fill out the form on the right to get your free eBook now.