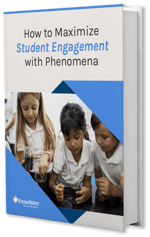 Who should read this eBook:
K-8 teacher leaders
School and district administrators
---
The Next Generation Science Standards are all about students being scientists and engineers every day in the classroom. And if a student is going to be a scientist or engineer in the classroom, if that's going to be the mode of learning, there needs to be a purpose.
That's where phenomena come in.
In this eBook, you'll find answers to questions like:
Why are phenomena central to a next generation-aligned instructional model?
How do the science and engineering practices connect to phenomena-based learning?
How is phenomena-driven learning different from more traditional isolated tasks?
Fill out the form on the right to get your free eBook now.