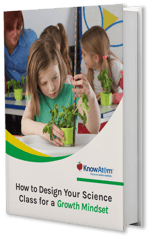 Who should read this eBook:
K-8 teacher leaders
School and district administrators
---
With the right tools and the right mindset, the science classroom is an unparalleled opportunity for students to become scientists and engineers because STEM—science, technology, engineering, and math—is the perfect opportunity for teaching critical thinking skills: how to create, evaluate, and analyze.
This is where a growth mindset comes in. When educators focus on a growth mindset—both in themselves and in their students— they enhance students' ability to use creative, evaluative, and analytical thinking skills, which in turn prepares students for higher education and beyond.
In this eBook, you'll find answers to questions like:
How is a growth mindset different from a fixed mindset?
How does the next generation of STEM instruction depend on a growth mindset?
What does a growth mindset look like in a science classroom?
Fill out the form on the right to get your free eBook now.