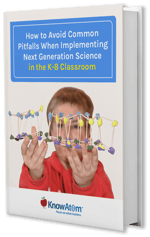 Who should read this eBook:
K-8 teacher leaders
School and district administrators
---
The Next Generation Science Standards envision students learning as scientists and engineers. It's no longer about students doing science but about being scientists; not doing engineering but being engineers.
As classrooms begin to implement NGSS and work to achieve this vision, there are inevitably some challenges that will come to the forefront.
In this eBook, you'll find answers to questions like:
How does the traditional model of instruction need to change to become a next generation model?
What are common implementation pitfalls facing teachers and leaders?
How can those pitfalls be avoided?
How can leadership aid in successful implementation?
Fill out the form on the right to get your free eBook now.