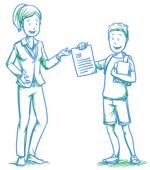 Do your assessments help students improve their own learning in the moment?
How are your assessments helping you improve your practices in the moment so you can better understand what it means to teach your specific students well? In this one-hour webinar, explore concrete ways to create and use formative assessments to strengthen both science teaching and learning.
We'll discuss:
Why formative assessments are essential with next generation science instruction
How formative assessments benefit both the teacher and students
What all formative assessments share that make them so useful
Concrete ways to incorporate formative assessment into every aspect of your teaching
Learn what's behind the shift from summative to formative assessments in the new science standards and how you can begin making that shift today.
Webinar Details

Who should attend:
K-8 teachers, school and district administrators