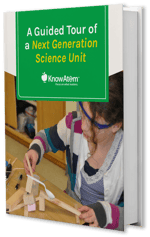 Who should read this eBook:
K-8 teacher leaders
School and district administrators
---
Introduction of the Next Generation Science Standards to K-12 classrooms across the U.S. has brought about change in the way STEM subjects — science, technology, engineering and mathematics — are taught.
But what do teachers need to prepare for the coming change?
At KnowAtom, we think stepping back to gain a little perspective helps — taking a closer look at NGSS, exploring the inquiry experience from a student's viewpoint, and then assessing what is needed for teachers to be successful.
This eBook will cover:
Key changes in STEM education that come with NGSS
The student inquiry experience
The teacher perspective, through a KnowAtom sample unit
Fill out the form on the right to get your free eBook now.