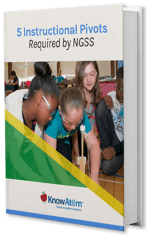 Who should read this eBook:
K-8 teacher leaders
School and district administrators
---
The Next Generation Science Standards require curriculum that allows students not only to learn and use scientific content but also develop the tools and skills necessary to create, evaluate, and analyze as part of the instructional environment.
To meet the goals of NGSS and to achieve mastery readiness in students, there are five key instructional pivots that will need to occur. Each of these pivots is an innovation that your curriculum will need to reflect.
In this eBook, you'll find answers to questions like:
Why are the Next Generation Science Standards innovative?
How will the traditional model of instruction need to change to a next generation model?
What are the 5 instructional pivots required by NGSS and how can they be achieved?
Fill out the form on the right to get your free eBook now.